Insights Discovery

We help people understand themselves better as individuals and leaders.
Everyone has leadership within them, and Insights Discovery allows you to understand the unique leadership brand you bring to your team and organization. When we better understand ourselves and each other, we can build deeper trust based relationships, and become more effective as a team. Discover your individual and collective strengths using this dynamic and practical tool to increase engagement and productivity.
Trust Building: The Value of the 4 Colors of Insights
Organizations must maximize their team's potential to maximize their overall success. Learning how to best work together, especially through changes and transformations, is critical to the health of an organization. The 4 Colors of Insights is an asset you can use to increase retention, engagement, problem-solving, and innovation.
It helps leaders and team members better understand their communication styles and preferences.
It builds trust between leaders and team members, helping them better connect and facilitating increased productivity and engagement.
It provides a common language for improved communication, making it easier to resolve conflicts and challenges.
With the 4 Colors of Insights, you can effectively build trust in the workplace and generate sustainable growth.
Team Building with Insights
Focusing on your team can improve engagement, maximize effectiveness, and promote a more inclusive workplace environment.
Sicora Consulting uses the 4 Colors of Insights to help individuals discover the leader within, appreciate differences in others, and work to build effective teams.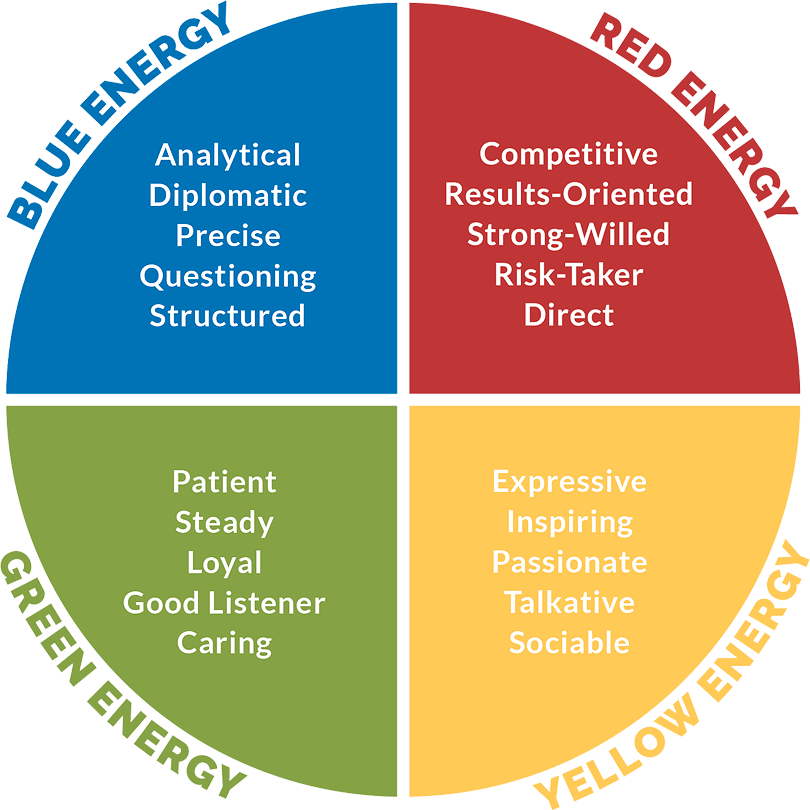 Day of
Discovery
Identifies personal approaches to thinking, working, and communicating
Transformational Leadership
Achieve greater impact and better results.
Team
Effectiveness
Customized solutions to meet the specific needs of each organizational team.
Sales
Effectiveness
Transform sales teams with our Six-Step Sales Process.
Innovating with Insights
Take positive action with clear insight and knowledge.
Maximize individual potential and organizational success with Sicora Consulting's 4 Colors of Insights.
"The Sicora Crew does an amazing job creating an atmosphere where people gain greater insights to themselves and to their teams. Their instruction methods teach the results in a way that can be applied not only to the work environment but also, In everyday life. It is truly transforming for anyone who wants to create a high-performance team"
Nearly Two Decades of Insights Expertise
Back in 2005, Dr. Sicora was first introduced to the tool and was so impressed by the narrative and accuracy that he brought it to the Learning & Development function at Carlson Companies. Later, as the head of Organization Development for the Fluid Power Group at Eaton Corporation, Dr. Sicora implemented Insights Discovery for its many employees around the world.
In 2009, Dr. Sicora became an independent consultant, and the Insights organization asked him to partner with them and bring Insights to their global clients. So, Dr. Sicora joined as a Senior Consultant and a Lead Faculty member, training individuals on how to facilitate and coach using Insights Discovery.
In fact, Dr. Sicora's dissertation research utilized Insights Discovery, working with 20 organizations, 2000 employees, and 300 leaders to better understand how the 4 colors of insights impacts trust building and team building.
Sicora Consulting quickly became a top-five distributor, helping organizations of all kinds leverage the power of the Insights tools. Today, we continue our partnership with the #1 distributor of Insights.
Ready to get started?
Contact Us
Learn how you can take command of your organization's purpose by fostering deeper levels of trust, leadership, and engagement using our Leading from the Helm programs and the Insights Discovery Model.